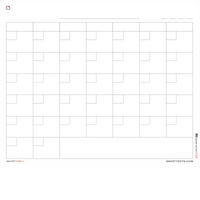 Calendar (58x48) - 2.0 | Clearance | Showroom Sample
$80.00
SKU: CALENDAR5848XXX
Minor Production Flaws - contains scratches on the back side (not the dry erase side) and not noticeable when installed. About 0.5 inch separation of dry erase film, at the age (not affecting flexiboard's dry erase functionality)
Awesome progress! Your munchkin already knows Shapes, Alphabet and basic Math! Now, let's put together a Calendar!
Instructions: Fill in the Month, Year, Dates, Days of the week, and Daily Notes
About: CALENDAR is usually introduced at approximately  3 to 5 years of age. This stage will introduce the concept of time-framing, beyond the "yesterday, today, and tomorrow". Since all the calendar fields are empty, your munchkin will be showing off skills of writing letters, numbers, and hopefully doing a little mathematics, by adding reward points, as form of process gamification, at the bottom of the calendar.
Give your little planner an awesome organizational foundation!
Purpose: Whether new or frequent user of dry erase products, you will be amazed by Smarty Dots' superior quality. Draw and erase with any color without any trace. The Glueless application make Smarty Dots Flexiboard truly repositionable.
This thick, solid, high-density Glueless application can Protect Your Walls, not only from kid's drawing on walls, but also from accidental scuffs and scratches! Moreover, you can use this Flexiboard as a Wall Art to display your amazing talents!
Whenever you have a moment of eureka, use Smarty Dots Flexiboard to capture your vision on this Trusted, truly Repositionable, Flexible, Safest, most Versatile, and Portable premium quality dry erase Transparent whiteboard. With Smarty Dots' oversized dry erase Flexiboard, you may run out of ideas before you will run out of space!
Make someone else happy! Smarty Dots Is Perfect for a thoughtful, original and budget-conscious Gift.
Smarty Dots - Knowledge Is Power!
Type: Dry Erase
Application: Glueless 
Base Color: Transparent / Optically Clear
Size: 58" x 48" (147.32 cm x 121.92 cm)
Net Weight: 1.56 lbs (0.71 kg)
Model Number: CALENDAR5848XXX