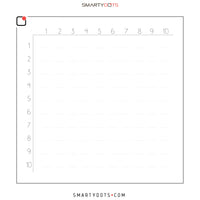 Math | Multiplication (28x30) - 1.0 | New | Discontinued Clearance
$25.00
SKU: MATH_MULTI_28X30
Perfect! Your kiddo now knows basic mathematics! Let's learn Multiplication Table!
Instructions: Exercise your memory by remembering essential multiplication combinations. Then, practice your memory by performing basic algebra tasks, using Graph.
About: Multiplication Table is the best next step, since your little explorer is already comfortable with basic mathematics. So, let them discover the logic of numbers! Challenge them with the concept of multiplication process. Show the logic of how to arrive at particular value, which they were arriving at with lengthy additions, by making the process faster with the power of multiplication!
Let your kiddo discover the Romance of Numbers!
Purpose: This education product is designed to improve Cognitive Skills Development of not only early-age children, but also students with special needs. The LARGE FORMAT application of this method is intended to minimize the level of distraction by magnifying material presented on the large format surface to the point that most of presented material falls outside of the users' primary spectrum of vision. Similar level of distraction can be found in cases with students, who are overcoming attention-deficit/hyperactivity disorder (ADHD).
Whether new or frequent user of dry erase products, you will be amazed by Smarty Dots' superior quality. Draw and erase with any color without any ghosting. The low-tack adhesive allows for a clean removal.
This thick, solid, high-density Decal can Protect Your Walls, not only from kid's creative drawings, but from accidental scuffs and scratches! Moreover, you can use this Decal as a Wall Art to display your amazing talents!
Make someone else happy! Smarty Dots Is Perfect for a thoughtful, original and budget-conscious Gift.
Smarty Dots - Knowledge Is Power!
Type: Dry Erase
Application: Low Tack Adhesive to Hard, Flat Surface (Walls and Doors)
Base Color: White
Size: 28" x 30" (71.12 cm x 76.2 cm)
Net Weight: 0.32 lbs (0.15 kg)
Model Number: MATH_MULTI_28X30