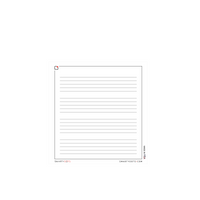 Music Staff (28x30)
$79.99 $89.99
SKU: MUSIC2830
Wow! Has your kiddo been singing better than the tunes on your radio? Let's practice to write musical score!
Instructions: Write Musical Score and Create Music.
About: MUSIC is introduced to your munchkins even prior to birth and accompanies them throughout their life journey.
Give your little Maestro a canvas of creative opportunities!
Purpose: Whether new or frequent user of dry erase products, you will be amazed by Smarty Dots' superior quality. Draw and erase with any color without any trace. The Glueless application make Smarty Dots Flexiboard truly repositionable.
This thick, solid, high-density Glueless application can Protect Your Walls, not only from kid's drawing on walls, but also from accidental scuffs and scratches! Moreover, you can use this Flexiboard as a Wall Art to display your amazing talents!
Whenever you have a moment of eureka, use Smarty Dots Flexiboard to capture your vision on this Trusted, truly Repositionable, Flexible, Safest, most Versatile, and Portable premium quality dry erase Transparent whiteboard. With Smarty Dots' oversized dry erase Flexiboard, you may run out of ideas before you will run out of space!
Make someone else happy! Smarty Dots Is Perfect for a thoughtful, original and budget-conscious Gift.
Smarty Dots - Knowledge Is Power!
Type: Dry Erase
Application: Glueless
Base Color: Transparent / Optically Clear
Size: 28" x 30" (71.12 cm x 76.2 cm)
Net Weight: 0.472 lbs (0.21 kg)
Model Number: MUSIC2830