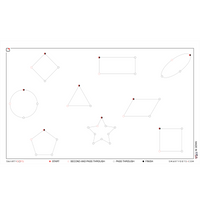 Shapes (58x35) - 2.0 | Clearance | Showroom Sample
$65.00
SKU: SHAPES5835XXX
Photo Shoot Prop - contains scratches on the back side (not the dry erase side) and not noticeable when installed.
Welcome! OMG, are your munchkins already crawl-racing throughout the house?! Amazing! Let them reach for the stars! (which are conveniently located on our Smarty Dots Introductory Application named "Shapes" :-)
Instructions: Parents, have a sit in front of "Shapes" and place your munchkin in your lap. Start tracing for your baby to observe and begin to get used to the process. After about two months, you will place to marker into your munchkins' hand and trace shapes with their hand. Slowly, surrender control to them.
START
-
  The 
Solid Red
dot is where you start!
SECOND AND PASS THROUGH
-
 The 
Hollow Red
dot is
always 
the second step and it
always 
passes through to the next step. You should never stop here;
PASS THROUGH
-
 The 
Hollow Black
dot
always 
passes through to the next dot. 
You should never stop here;
FINISH - The Solid Black dot is where you stop!
Check your work. If you have traced over every line, before arriving at the Black Solid dot, then you have done a great job!
Your little genius must connect all the dots in such a fashion that by the time they arrive at the Solid Black dot all other dots should be connected, via designated pathways, while respecting the Four-Steps Rule.
About: SHAPES are the first and the best objects to introduce to your toddler, since the surrounding world is made entirely of shapes. Once they learn to crawl, which is around the time of 7-10 months, they will be unstoppable! So, let them discover Triangles, Circles, Squares, and more!
The world is made entirely of shapes. Shape their world!
Purpose: This education product is designed to improve Cognitive Skills Development of not only early-age children, but also students with special needs. The LARGE FORMAT application of this method is intended to minimize the level of distraction by magnifying material presented on the large format surface to the point that most of presented material falls outside of the users' primary spectrum of vision. Similar level of distraction can be found in cases with students, who are overcoming attention-deficit/hyperactivity disorder (ADHD).
Whether new or frequent user of dry erase products, you will be amazed by Smarty Dots' superior quality. Draw and erase with any color without any trace. The Glueless application make Smarty Dots Flexiboard truly repositionable.
This thick, solid, high-density Glueless application can Protect Your Walls, not only from kid's drawing on walls, but also from accidental scuffs and scratches! Moreover, you can use this Flexiboard as a Wall Art to display your amazing talents!
Whenever you have a moment of eureka, use Smarty Dots Flexiboard to capture your vision on this Trusted, truly Repositionable, Flexible, Safest, most Versatile, and Portable premium quality dry erase Transparent whiteboard. With Smarty Dots' oversized dry ease Flexiboard, you may run out of ideas before you will run out of space!
Make someone else happy! Smarty Dots Is Perfect for a thoughtful, original and budget-conscious Gift.
Smarty Dots - Knowledge Is Power!
Type: Dry Erase
Application: Glueless
Base Color: Transparent / Optically Clear
Size: 58" x 35" (147.32 cm x 88.9 cm)
Net Weight: 1.135 lbs (0.52 kg)
Model Number: SHAPES5835XXX