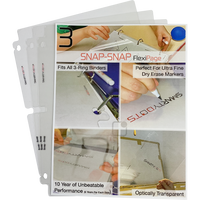 Snap your fingers to welcome Snap-Snap FlexiPage, the brand new addition to the Smarty Dots' family of extraordinary products!
3 FlexiPages = 30 Years of Unbeatable Performance!
Instructions: Snap your Snap-Snap FlexiPage into your 3-ring binder over your practice template and never laminate another practice sheet, ever again! When finish with a given practice, unsnap the Snap-Snap FlexiPage, and repeat the process with your next practice template.
Smarty Dots winning technology is now in your binder!
About: SNAP-SNAP is a double-sided Dry Erase Without A Trace 8.5"x11" standard size FlexiPage that is made with the same Smarty Dots winning formula. Basically, the Snap-Snap FlexiPage is the smaller version of the Smarty Dots FlexiBoard. However, the 345 micrometer overall thickness makes Snap-Snap even more rigid than any of the Smarty Dots products. Snap your Snap-Snap into place, at a snap 'a' time with a unique quick-release locking design!
Snap your Snap-Snap into place, at a snap 'a' time!
Purpose: This education product is designed to improve Cognitive Skills Development of not only early-age learning children, but also students with special needs.
Whether new or frequent user of dry erase products, you will be amazed by Smarty Dots' superior quality. Draw with any color and erase without any trace. The quick-release feature makes Snap-Snap a unique educational utility application.
This thick and rigid FlexiPage will eliminate the need for any page lamination, ever again. The premium quality of this reversible dry erase FlexiPage will perform the superior erase-without-a-trace function for 10 years (5 years of continuous use on each side).
Whenever you have a teachable moment, use Smarty Dots FlexiPage to captivate those young and eager to learn young minds on this Trusted, Reversible, Flexible, Safe, Versatile, and Portable premium quality dry erase Transparent FlexiPage.
Make someone else happy! Smarty Dots Is Perfect for a thoughtful, original and budget-conscious Gift.
Smarty Dots - Knowledge Is Power!
Qty:
3 per package
Type
: Dry Erase
Application
: 3-Ring Binder Quick-Release Insert
Base
Color
: Transparent / Optically Clear
Size
: 8.5" x 11" (21.59 cm x 27.94 cm)
Net Weight
: 0.84 oz (23.83 g)
SKU Number
: SNAPSNAP