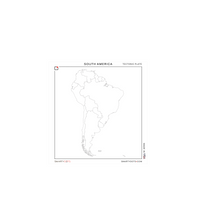 South America | Tectonic Plate (28x29)
$79.99
SKU: SOUTHAMERICA2829
Great, you are here! The World is impatiently awaiting! Let's get technical about South America Tectonic Plate!
Instructions: Choose a country or an entire continent. Trace its borders. Remember the shape of those borders. Retrace it by memory on BLANK Smarty Dots Flexiboard.
About: SOUTH AMERICA Continents can be introduced between 3 to 5 years of age, right after the World Map. The learning process is recommended to start with grasping the concept of the world.
Point your little explorer towards the direction of new discoveries!
Purpose: This education product is designed to improve Cognitive Skills Development of not only early-age children, but also students with special needs. The LARGE FORMAT application of this method is intended to minimize the level of distraction by magnifying material presented on the large format surface to the point that most of presented material falls outside of the users' primary spectrum of vision. Similar level of distraction can be found in cases with students, who are overcoming attention-deficit/hyperactivity disorder (ADHD).
Whether new or frequent user of dry erase products, you will be amazed by Smarty Dots' superior quality. Draw and erase with any color without any trace. The Glueless application make Smarty Dots Flexiboard truly repositionable.
This thick, solid, high-density Glueless application can Protect Your Walls, not only from kid's drawing on walls, but also from accidental scuffs and scratches! Moreover, you can use this Flexiboard as a Wall Art to display your amazing talents!
Whenever you have a moment of eureka, use Smarty Dots Flexiboard to capture your vision on this Trusted, truly Repositionable, Flexible, Safest, most Versatile, and Portable premium quality dry erase Transparent whiteboard. With Smarty Dots' oversized dry erase Flexiboard, you may run out of ideas before you will run out of space!
Make someone else happy! Smarty Dots Is Perfect for a thoughtful, original and budget-conscious Gift.
Smarty Dots - Knowledge Is Power!
Type: Dry Erase
Application: Glueless 
Base Color: Transparent / Optically Clear
Size: 28" x 29" (71.12 cm x 73.66 cm)
Net Weight: 0.472 lbs (0.21 kg)
Model Number: SOUTHAMERICA2829